As California dries off after historic flooding caused by nine consecutive "atmospheric river" events, resulting in hundreds of thousands of families being evacuated, nearly two dozen lost lives, and billions of dollars in economic damage, new drone images and a much-anticipated new report on groundwater rise in the San Francisco Bay Area raises major questions about the sensibility of development of Newark's baylands.
(Image above: Newark Area 4 flooded by the heavy winter storms and emergent groundwater, photographed by drone on January 23, 2023. Image by Derell Licht (CC BY-ND 2.0))
The proposal to develop the Newark Area 4 site, 500 acres of historic baylands directly adjacent to the Don Edwards San Francisco Bay National Wildlife Refuge, has already sparked a regional outcry, given the multiple decades of efforts by the conservation community to protect and restore these wetlands as part of the Refuge. In the meantime, however, the climate crisis has continued to escalate, sea levels have continued to rise, and the scientific community has been producing increasingly detailed reports on what the region can expect as Bay water levels rise by as much as 7 feet by 2100.
We already know that Newark Area 4 is almost entirely within a flood zone, and the site is anticipated to be almost completely inundated with just 1 meter of sea level rise (see image below). We also already know and have written extensively about the unique and valuable role the Newark Baylands can play as one of a critical handful of locations around the Bay that can support the migration of San Francisco Bay wetlands inland as sea levels rise, a tool scientists call necessary for ensuring the long-term resilience of the Bay ecosystem.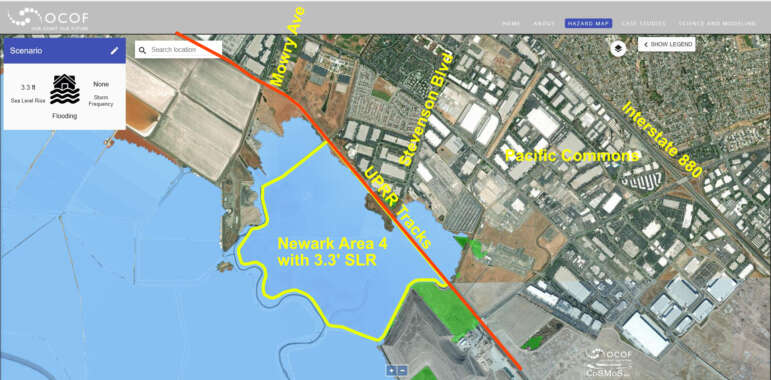 Now, the latest report is a seminal study by Pathways Climate Institute LLC and the San Francisco Estuary Institute (full report here), which for the first time, details how groundwater around the Bay shoreline is anticipated to rise as sea levels rise. Their report shows that throughout almost the entirety of Newark Area 4, groundwater is already emergent today, meaning that during a regular wet winter, the ground is unable to absorb stormwater because the groundwater is already so high it is reaching the surface. As sea levels rise, we can therefore anticipate regular winter flooding of Newark Area 4, as seen in the image at the top of this page, to only escalate.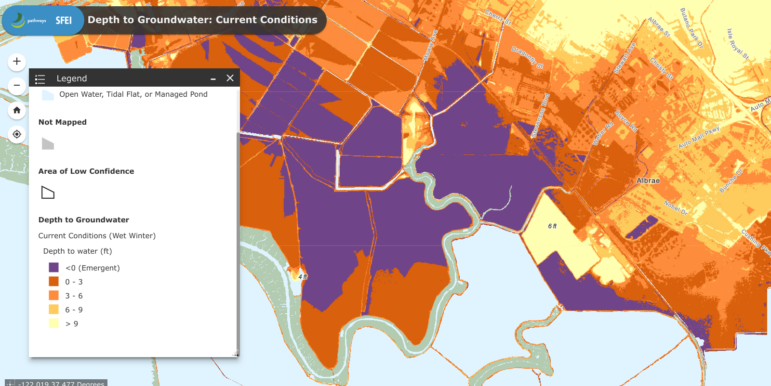 Years in the making, this report is now being utilized by cities and counties around the Bay Area, reports the Los Angeles Times: "Other cities and counties are starting to rethink their flood-protection options — a traditional levee or seawall, after all, would do nothing to stop the groundwater as it moves with the rising sea." Major areas of concern include the significant risk of groundwater rise to mobilize contaminated soils, corrode underground pipes and foundations, impacting homeowners, businesses and infrastructure, seepage of groundwater into sewers, and increased liquefaction in shoreline areas as rising groundwaters make soils become saturated and particularly unstable during an earthquake. While there are potential solutions to address groundwater rise, the report notes that "strategies to reduce inflow and infiltration of groundwater into infrastructure can be costly." (28)
With Newark's baylands already in a flood zone, already experiencing emergent groundwater flooding annually, expected to be near completely inundated by sea level rise within a matter of years, and isolated from the rest of the City of Newark with no existing infrastructure, in an area long prioritized for San Francisco Bay wetland protection and restoration — the real question is whether it makes sense to continue to place new development in areas we know will require future (and costly) flood protection when we already have billions of dollars of existing development and infrastructure that require protection? And as important, is it wise to squander rare conservation opportunities by developing lands that instead could provide natural resilience for our existing communities and for the health of San Francisco Bay?
Join your voice to the chorus of those calling for permanent protection of Newark Area 4 by signing our Save Newark Wetlands petition, and sharing our promotional video with your friends and neighbors!